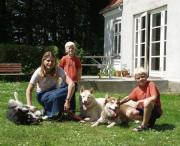 Summer in the garden
Well, it all started when we, as everyone else, got a internet connection - after that we just had to find out how to use it and when our friends at the same time wanted to follow the development of our sled dog project it was logical to become one of the many with a homepage
.


We are a very common family with a mother, father and tree lovely kids. The two "old-timers" of our family are from total different parts of Denmark named Bornholm and Lolland. We didn't meet up in Bornholm or Lolland but in Greenland for now many years ago. Our fascination of Greenland has always been very strong - a fascination that we now are passing on to our children
.


The family consist of :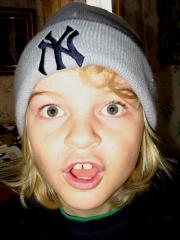 Victor :
A "full speed ahead" kid from 1996. Beside of the school most of his time is spent on his male and not at least his female friends. To his fathers big joy he has just recently started to show a strong interest in outdoors activities.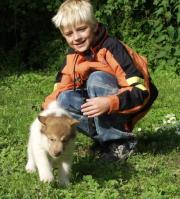 Marcus:
Our little philosopher from 1993. Plays the guitar, handball, draw and dance hip-hop. Love the winter sports activity but prefers something with a bit more speed than driving a dogsled. A person with some very broad interests - at the moment the dream is to get a motocross bike.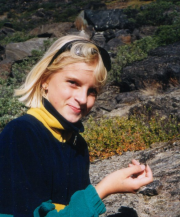 Christina:
The creative person in our family from 1989. Has been dancing and acting in all the armature plays she can find. Still an active girl scout. Has just ended her 9th year in the public school with bravura where after she will move out and take a year in a school that has focus on theatre and music. After all the singing and dancing we hope to see her back here for tree years in the nearby high school.



Lone: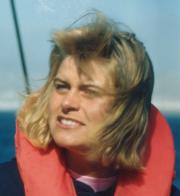 Working as a nurse at our local hospital. In our family she's the one that makes it al functioning. Remembers and organise al the arrangements that the rest of the family forgets.
Supports and encourage both kids and adults to live out there dreams in lives.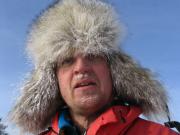 Jan:
Works with "high-tech" in the professional live witch as often takes place outside Denmark's borders as inside. The quality time are spent on the family, our dogs, sea kayaking and hiking in the North.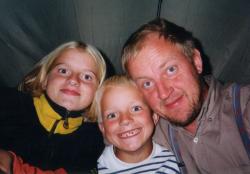 That was a little about us!
Hope you will enjoy our homepage.